Home
>
Dog Trainer Bios
> Grisha Stewart
Grisha Stewart, MA, CPDT-KA, CTP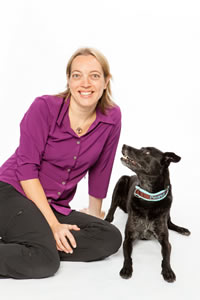 Grisha with her dog, Peanut
Grisha Stewart is the founder of Ahimsa Dog Training in Seattle. She was voted as Seattle's Top Dog Trainer by the readers of CityDog Magazine. Grisha presents seminars to dog trainers around the world. Click here for Grisha Stewart's seminar schedule.
Grisha has been an active member of the Association of Pet Dog Trainers since 2002 and a Certified Pet Dog Trainer since 2004. She is also a Certified Training Partner from the Karen Pryor Academy for Animal Training & Behavior.

Since BAT, my human aggressive dog is much more comfortable around people and is starting to exhibit friendly gestures towards them. I have attended two BAT teleseminars and I purchased the [first] BAT DVD.
Each of Grisha's presentations has left me with a richer understanding of BAT and the amazing things it can do for our dogs.
- Judith Azaren, New Jersey
Grisha developed Behavior Adjustment Training (BAT) for working with behavior problems in dogs, including fear and aggression. She is the author of two books and several DVDs, including "Behavior Adjustment Training: BAT for Fear, Frustration, and Aggression in Dogs," "The Official Ahimsa Dog Training Manual: Force-Free Problem Solving and Training," and "Give Your Puppy a Choice: Modern Socialization and Training."
Grisha takes continuing education very seriously and attends several training and behavior workshops each year including the national APDT conferences in Orlando, Denver, San Jose, Portland, Oakland, Atlanta, San Diego, and Cincinatti; Karen Pryor's ClickerExpo in Philadelphia and Portland; The Woof! European Dog Training and Behaviour Conference, and several specialty workshops on clicker training, adolescence, aggression, and fear. She also attends seminars internationally, in order to get a broader perspective on dog behavior and training.
Grisha earned her Master's degree in theoretical mathematics from Bryn Mawr College in 2000. In 2001, Grisha's master's thesis was selected as the best "Physical Sciences, Math & Engineering" thesis on the East coast in the previous 3 years by the Northeastern Association of Graduate Schools (see a published version of her thesis here). Grisha's problem solving and critical thinking skills serve her well as a dog behavior counselor, where every dog presents a unique set of challenges.
For her undergraduate degree, Grisha graduated summa cum laude from the University of Puget Sound with a double major in mathematics and German and earned the right to become a member of the Phi Beta Kappa & Phi Kappa Phi honor societies. She was also the valedictorian of her high school.
Grisha has volunteered at the Humane Society for Seattle/King County. At the Humane Society, she trained numerous shelter dogs, assisted with dog training classes, helped out with fundraisers like Tuxes and Tails, and has been a foster parent.
Grisha has always enjoyed teaching, from humans to cats, goats, & dogs. Her (human) students have commented that her classes are creative and fun and that she gives clear explanations that they can follow. They especially enjoy the small dog training classes at Ahimsa (usually around 6-8 dogs).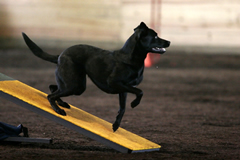 Peanut running agility
There are a lot of different dog training styles, which can be very loosely grouped into two main categories: reward-based ("positive training") and correction-based ("compulsion training"). Reward-based dog training can be split further into lure-reward and clicker training. Grisha is a clicker trainer who uses luring when it is useful, but utilizes shaping with the clicker as her primary means of teaching new behaviors.
Grisha is not a permissive trainer, just a positive one. She does not use force, yelling, squirt bottles, or shake cans to get rid of problem behaviors, because of the other unwanted behaviors that pop up in their place (among other reasons). Instead, she uses our main tool, the human brain, and finds ways to prevent the dog from practicing the behavior and rewarding itself, while teaching the dog something else it can do. Because the dog-human relationship is so important, force is simply not part of Grisha's dog training toolbox, although she has used it in the past.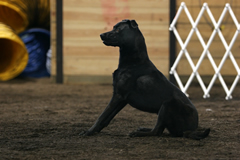 Peanut's ready! Grisha is 80 feet away.
Years ago, Grisha attended a training class that was a hybrid of reward-based methods and traditional methods, although it was billed as a positive dog training class. Research shows that such a combination is actually the least effective way to train dogs.
The instructor told her to lure the dog into a sit and praise her for sitting, but when her dog sniffed around in class, Grisha was supposed to give her dog a correction on the prong collar.
At the time, Grisha was impressed by the control that the prong collar offered for her super-puller. It was like power steering. She was reluctant to use a prong collar at first, but her instructor assured her that it was humane. It didn't take long for Grisha to realize this wasn't her style of training. Leash corrections work because they hurt or otherwise make the dog uncomfortable. Period. She couldn't do that to her dog any more, especially since there are plenty of alternatives to train leash walking, like head collars or the new style of body harnesses. Grisha put the prong collar away and never looked back. Peanut, the agility dog in the pictures on this page, was training exclusively with clicker training.
In the "positive" dog training class described above, the trainer said she didn't use the clicker because it was silly, just more baggage. She also had the mistaken notion that you had to use the clicker forever. The instructor clearly hadn't learned much about the clicker, or she would have known that the clicker is only for teaching new behaviors, anywhere from a day to a few weeks. Once the behavior is on cue, you don't need the clicker. [update: We're happy to report that other dog trainer now uses the clicker, as well].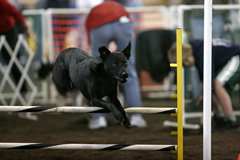 Peanut jumping in agility
Grisha didn't want to buy a clicker because it was such a silly notion, but she kept reading about how useful it was. So she took the lid of a juice bottle and experimented a bit. The sound was soft but her dog didn't take long to learn that the pop of the lid meant a treat was coming. Within about five minutes, Grisha had trained her dog to look at her friend on cue. Wow! She then took the clicker on a walk and rewarded her dog for every glance in her direction. Soon she had a dog that wasn't pulling - it's very hard to pull when your head is facing back to your human. That's when Grisha decided it was time to jump in to clicker training with both feet.
Grisha uses clicker training in her classes because it's fun and effective. Dogs think it's a wonderful game, so you can 'play' at training any time you want. It's something to do with your dog, not to him. You put the dog in the driver's seat; he gets to feel like he has some control over his environment. Brain research in humans shows that we learn faster when we perceive that we have control of the learning situation. Dogs are not so much different.
For more on our training philosophy, click here.
Certified Pet Dog Trainer & Professional member of the Association of Pet Dog Trainers
[
Home
] [
Puppy School
] [
Dog Classes
] [
Contact Us
] [
Dog Training Philosophy
] [
Testimonials
] [
FAQ
] [
Free Dog Training Advice
] [
Dog Trainer Bios
] [
Puppy Help
] [
Links
] [
K9 Friends
] [
Ahimsa Dog Training Gear
]
© 2003-2012
Ahimsa Dog Training, LLC. Seattle, Washington
State, USA. Last Update:
925 NW 49th Street, Suite C, Seattle, Washington, 98107
. 206.364.4072 Email
info@doggiezen.com